The Preparatory Study Group: This study group is for new students interested in studying the Supramental and Integral Yoga and Cosmology of Patrizia Norelli-Bachelet. It is led by Robert E. Wilkinson, Patricia Heidt and Lori Tompkins. The group is currently reading The Gnostic Circle and The Magical Carousel. Membership is required to participate in discussions. Contact Robert Wilkinson (robtw@sprynet.com) if you would like to join the group.
'We've decided to start with a Mission Statement, The Emerging Cosmos. It is a beautiful proclamation: it contains the problem, the emerging solution, and the victory. I re-read it last evening, and it gives the purpose for the study group very clearly. Students will understand right at the start that not only are we working out an individual path, but the road being paved is a universal one as well. And here is where the New Way differs from past spiritual movements.'
– Patricia Heidt, 6 November 2006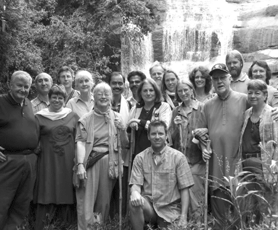 The VISHAAL Study Group: This study group, led by Patrizia Norelli-Bachelet, is for students who clearly recognize the Third stage of the Supramental Descent initiated by Sri Aurobindo and the Mother. VISHAAL means 'Expansion'. A starting point of discussion in this forum has been The VISHAAL Newsletter, published from October of 1985 through April of 1995. Membership is required to participate in discussions. Contact Jeanette Caurant (caurant@msn.com) for inquiries about this group.


'The time has come to establish contact with the many people throughout the world who have vibrated to Sri Aurobindo's message of a Supramental Manifestation upon Earth, who have understood that humanity stands at the threshhold of a totally new development in the long history of its evolution, and who wish to be conscious participants in this great change that is upon us.'

–

Patrizia Norelli-Bachelet, 'The Supramental Change', The VISHAAL Newsletter, Vol. 0, Number 1
*To request membership to one or more of the above groups, please email the group's contact person.*
The above images MAY NOT be reproduced in any form without express permission from Patrizia Norelli-Bachelet.